Happy Masters Sunday! I'm glad to be headed back to the district after six weeks in Washington, especially during such an exciting week!

My pick to win the tournament was Dustin Johnson, but after he withdrew, I picked Jordon Spieth to win. Comment
HERE
with who you think will win the green jacket!
The first full week of every April since the 1930's, America and the world get a peek at the Augusta National golf course and its world-famous azaleas for the Masters Tournament. Spectators gather in Augusta, Georgia or join family and friends around the television to watch the world's most talented golfers compete for the highly coveted green jacket. And for one week each year, the world gets a glimpse into Georgia-12 and the wonderful people who live and work there. This truly is "a tradition unlike any other." Welcome to all the patrons visiting, and I invite you to experience and enjoy the hospitality of the 12th District of Georgia.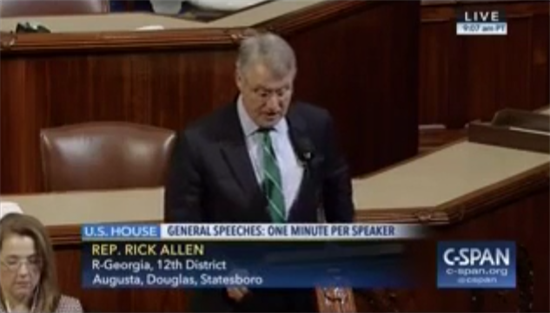 Click
HERE
to see the speech I gave on the Masters Tournament.
I also want to take a moment to congratulate Judge Neil Gorsuch on his confirmation as the 113th justice of the Supreme Court of the United States. I have the utmost confidence that he will serve our nation honorably in the highest court in the land and will work diligently to uphold law and order in America.

This week in Washington, we tackled national security issues and acted to take care of our veterans. On Monday, the House passed legislation with bipartisan support in order to hold North Korea accountable for its actions and keep Americans safe. H.R. 479, the North Korea State Sponsor of Terrorism Designation Act of 2017 formally designates North Korea as a state sponsor of terrorism, and H. Res. 92, Condemning North Korea's Development of Multiple Intercontinental Ballistic Missiles, formally reprimands North Korea's continued efforts to develop a ballistic missile. For the safety of Americans here and abroad, we cannot stand by and ignore the threat of this rogue regime, but must act—and I urge my Senate colleagues to quickly take up this commonsense legislation.
This week, the House also passed S. 544, a bill to eliminate the sunset date for the Veterans Choice Program that was expected to expire in August of this year. Veterans will now continue to have access to this vital program until all funds have been depleted. We must bring greater accountability within our government when it comes to the care of our veterans, and I am a strong supporter of providing options for those who so bravely served our country. This bill will now go to the President's desk to be signed into law.
We had a busy week in House Agriculture Committee, holding hearings on the upcoming Farm Bill and how to address agriculture issues in any tax reform package. In the Subcommittee on Commodities and Risk Management, we discussed commodity policy in the Farm Bill, specifically highlighting the cotton and peanut industry. As you know, both of these industries continue to be economic drivers for our district and the state of Georgia, and I look forward to working with stakeholders in the district to ensure these programs best fit the needs of our Georgia farmers. Click HERE to watch my questions in the hearing.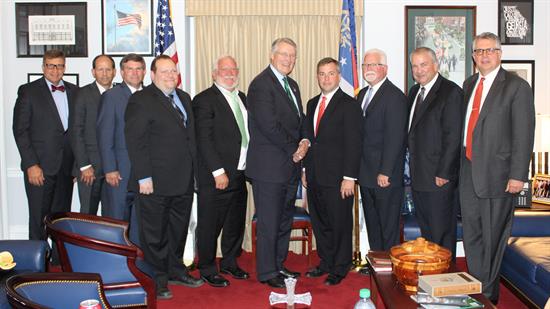 I met with members of the Georgia Peanut Commission and discussed the current economy of the peanut industry in Georgia.
We also discussed agriculture's role in tax policy. I believe our current tax system is broken, and as a Member of Congress reviewing and rewriting our tax code is one of my top priorities. Our House Republican Conference came together with input from experts around the country and constituents like you to release our platform for change—a platform President Trump has embraced. We need to establish a simpler, fairer tax code, lower taxes, and improve the IRS so it puts taxpayers first—but we also need to ensure that any changes to our tax code take into account the unique challenges of the agriculture industry and our producers. To watch the full hearing, click HERE.

Our office hosted a lot of families in Washington, D.C. for spring break and to escape the traffic. Interested in a tour of the Capitol Building? Click HERE!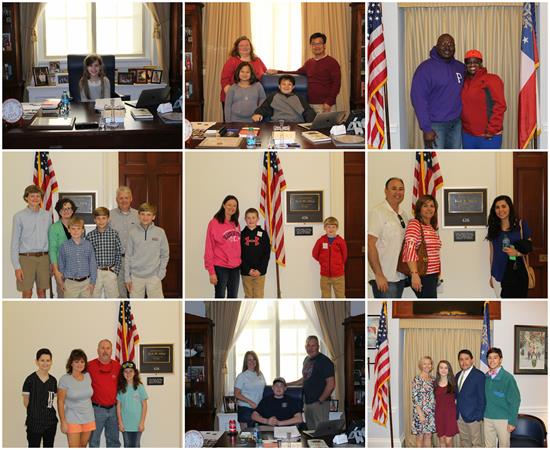 Here is a collage of a few of the families that we hosted in our Washington, D.C. office this week.


Do you want to see behind-the-scenes photos and get the inside scoop about what's going on in Washington and all things Georgia-12? Make sure you "like" me on Facebook, and follow me on Instagram and Twitter. I look forward to joining the conversation with you online!



Sincerely,


Rick Allen
Member of Congress