This week, the House was on a mission to rescue the country from the binds of our failing health care system, with a three phase approach: Reform our healthcare system through the budget reconciliation process into a patient-centered system, allow Dr. Tom Price, our fellow Georgian and Secretary of Health and Human Services to deregulate, and go through regular order to pass bills that cannot go through the reconciliation process.
For seven years, Americans have been subject to Obamacare. Premiums have skyrocketed, coverage has dwindled, access to physicians has decreased and some Georgians in the 12th District have only one choice when it comes to insurance providers—and often not the choice they want. I promised the people of the 12th District that I would stand by my commitment to repeal and replace Obamacare. While we did not vote on the American Health Care Act this week, I will live by my promise and will continue to fight to deliver patient-centered, cost effective and market oriented healthcare. Enough is enough.

There is much work that can be done through regular order, and this week, we passed two essential bills that fall under this phase.
H.R. 372- Competitive Health Insurance Reform Act of 2017 alters McCarran-Ferguson's antitrust exemption so that it no longer applies to health insurance, which will restore competition in the marketplace and lower prices for consumers.
H.R. 1101- Small Business Health Fairness Act subjects small businesses that provide health insurance to employees through association health plans to fewer regulations. Less regulation helps more small businesses provide health insurance to their employees.
See my speech on H.R. 1101 by clicking the video below!
Or you can click
HERE
to watch Rep. Rick Allen's speech.
Reforming and deregulating our healthcare system will allow our small businesses to do what they do best—grow, prosper, and create jobs. Another initiative that will create jobs is the Keystone XL Pipeline. Earlier this week, the Administration signed the dotted line to approve this project. Like President Trump, I am a former businessman and know firsthand the impact government delays and red tape have on the real world outside of Washington, D.C. I am excited President Trump made the right decision to jump-start the long overdue Keystone XL Pipeline, get Americans back to work and reduce our dependence on oil from the Middle East. That's what I call leadership!


We also had many friends from Georgia in town visiting Washington this week! Scroll down to see a few highlights from our meetings: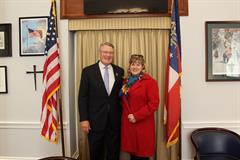 This week I met with Leigh Ann Williams from GSU to speak about the importance of literacy at all grade levels.





Georgia's School Superintendent, Richard Woods, and I met to speak about the implementation of the Every Student Succeeds Act, the importance of federal, state, and local flexibility for schools, as well as education in the state of Georgia.





It was a pleasure speaking about regulatory reform with the Executive Director of Augusta Regional Airport, Herbert Judon.


We also had our own former Governor, Sonny Perdue, on the Senate side beginning the nomination process to be the next Secretary of Agriculture. Governor Perdue's dedication to public service is an inspiration. I am confident in Sonny's ability to represent the interests of all American agriculture and Georgia's number one industry… and he sure can rock a tractor tie!



See Rep. Allen's Facebook page by clicking HERE.


This week was National Agriculture Day and Georgia Agriculture Week, and I want to take a moment to thank the farmers who work tirelessly to feed us all. We have also begun hearings in the House Agriculture Committee to examine policies in the next Farm Bill. I want to hear from you! You can email me ⇒ HERE, contact any of our offices or join the conversation on Facebook, Twitter or Instagram. Have a great week!



Sincerely,


Rick Allen
Member of Congress