Tuesday night, President Trump delivered his first address to a joint session of Congress. Americans everywhere heard a positive and passionate message spoken from the heart—and I think he knocked it out of the park!
In his address, the president outlined his vision for our country. Focused and forward thinking, his vision revives the American spirit—a spirit in all of us no matter our background or circumstances. In the short time he has been in office, we have seen promises kept and immediate action. Our president is using his business sense to chip away at the ice around our frozen economy by rescinding rules and regulations to provide job creators an economy to flourish in. He has made it a top priority to secure our country by rebuilding our military, supporting law enforcement, enforcing current laws and protecting our borders.
These are reasons Americans sent Trump to Washington and these are the reasons you sent me to Congress—two businessmen bringing decades of experience in building a business to rebuild America. I am excited to work with President Trump, Vice President Pence and the new Administration to restore America to its full potential.
Click HERE to read more. Click HERE to read my thoughts in the AJC.

Click HERE to follow Rep. Rick Allen on Instagram.

This week the House scrubbed regulations clean to restore some integrity to the rule-making process.
Searching for and Cutting Regulations that are Unnecessarily Burdensome (SCRUB) Act, H.R. 998:
Establishes a commission to review existing federal regulations and report to Congress those that should be repealed to reduce the unnecessary cost to the economy—kind of like a regulation report card.
The purpose being to identify which regulations are so egregious and ineffective that they should be repealed immediately and which regulations should undergo more flexible procedures prescribed by the bill.
Passed the House by a vote of 240-185.
Click below to watch my speech.
Rules and regulations have sucked the life out of American small businesses for the last eight years. Unlike some lawmakers, I have the unique experience of operating a business under Obama Era rules and regulations. It was tough! Georgians and Americans across the country bore the same burdens. We are ready for growth and innovation and an environment that encourages an economy like we have never seen before.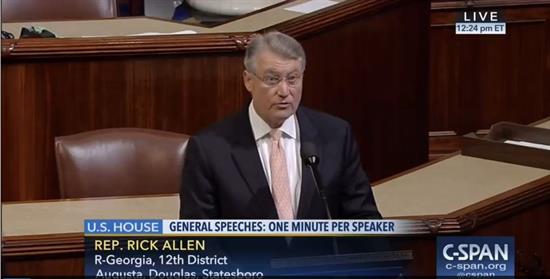 Click HERE to watch Rep. Rick Allen's speech.
Regulatory Integrity Act, H.R. 1004:
Each year, thousands of new regulations are issued. Agencies are required to consider comments from the public during a period of notice and comment, the intent being to incorporate reasonable changes—often that is not the case.
Some agencies have worked to tilt the balance in their favor by actively campaigning for support for their proposal.
This bill increases transparency in the rule-making process by requiring agencies to make information regarding regulatory actions public and prohibits agencies from lobbying or campaigning on behalf of a proposed rule.
Passed the House by a vote of 246-176.
Scroll below to read more.
A real life example of why this legislation is needed:

Look no further than EPA's Waters of the United States Rule (WOTUS). WOTUS would significantly broaden the definition of navigable waters to extend the federal government's authority over nearly any place where water flows. It would have undermined the rights of local landowners—in particular, America's farmers. Instead of listening to folks across the country who labor day in and day out to contribute to our country's agricultural economy, the EPA engaged in lobbying efforts to gain support for WOTUS by urging the general public to counter opposition from those in the agriculture industry. The rules and regulations process is not a popularity contest or competition. Federal agencies should be ensuring feedback from affected industry groups is heard and considered—it's plain common sense.

ICYMI: I introduced legislation to fully repeal WOTUS a few weeks ago. Thankfully this week the president also put WOTUS on notice by signing an executive order to review the rule, paving the way for repeal and revision. I look forward to working with him further on this matter.

I also had the chance to catch up with the Georgia Farm Bureau and hear their thoughts on the news surrounding the fate of WOTUS and an update on our local farming economy—talk about good timing.

ICYMI: Exciting opportunities are happening in our backyard—and last week I got to see it with my own eyes. Our area will soon be producing the next cyber workforce to field the threats of today, tomorrow and years to come. The Georgia Cyber Innovation and Training Center, as well as Augusta University's designation as a National Center of Academic Excellence in Cyber Defense by the National Security Agency and Department of Homeland Security, are critical to ensuring America's cyber workforce can continue to hone their skills in the ever-changing environment of cyberspace. These opportunities will help the CSRA to become the cyber hub of the southeast.
Read more HERE.

Don't forget, Community Office Hours have begun and will last throughout the month of March. These office hours offer the opportunity to get one-on-one help with federal issues from members of my staff in your neck of the woods. Click HERE to find out when my staff will be in your area.

What did you think about President Trump's address? Share your thoughts with me. You can email me ⇒ HERE, contact any of our offices or join the conversation on Facebook, Twitter or Instagram. Constituents of GA-12: Don't forget to sign up for my Telephone Town Halls. Click HERE to register your name and number to ensure that you're contacted for all future calls from me. I hope you have a great week.


Sincerely,


Rick Allen
Member of Congress