Congress is now three weeks in to our five week district work period. This is my favorite time of year because I get to meet with amazing people across the 12th district! In this week's newsletter I've included some of the people, places and businesses I've visited this month.

First I stopped by for a visit with the Augusta West Rotary Club.

I had the opportunity to go on a tour of Helms College in Augusta.

As a member of the House Education and the Workforce Committee, I know how importance career education programs are for our communities. Helms College is committed to providing career education to students in Augusta. It was a pleasure to meet with students in the culinary program!

I attended the opening of the new Grovetown Elementary School in Evans.


When I was in Swainsboro, I visited Advanced Metal Components where I learned more about their business and met with production workers.


In Metter, I stopped by Linzer Products Corp.


I joined local officials and business owners for the tour of Linzer Products Corp. I learned more about this wonderful company and met some of their employees. It's great to see companies like Linzer investing in our Georgia-12 communities and providing more job opportunities.

I was able to attend TechNet Augusta 2017.

Georgia-12 is at the forefront of cyber defense, and this was a great event! I am excited to see how the cyber industry in Augusta will continue to grow.

I got the opportunity to speak with CSRA Home Connections business owners.


I talked to them about the work House Republicans are doing to help business owners across America by reducing burdensome regulations. We have already produced more than $86 billion in savings for taxpayers, on top of the potential for $18.8 billion in annual regulatory savings.

I spoke to the Jenkins County Rotary Club about the hard work we've been doing in Washington.

AT&T made an exciting announcement in #GA12!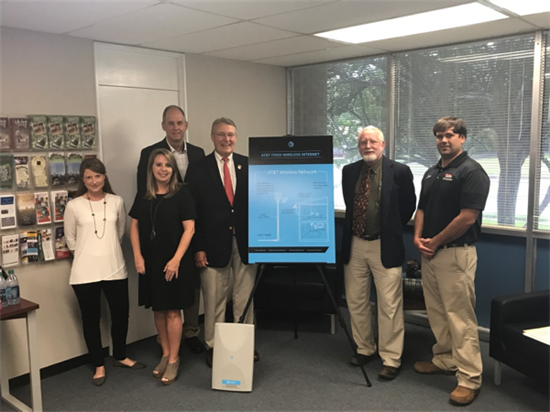 They announced that they will be offering fixed wireless internet in Jenkins County and Burke County. I was able to attend the announcements with members of the community and local leaders. I applaud this important investment in our communities!

(You can call 877-990-0041 to see if this service is available for your home or business.)

I visited the East Georgia Health Center in Millen.


They recently received a Federal grant which allowed them to open this much-needed health center. With the shortage of doctors and nurses in rural Georgia, health centers like this one are invaluable to our communities!

I also visited the Effingham Health System.

They gave me a tour of their facility including their new Cancer Center.

I stopped by the Sylvania Rotary club to give them a "DC update." Thanks for having me!

I also traded in my suit jacket for a Starbucks green apron in Augusta!


I went to Starbucks where I spoke with their leadership team and employees about their recent expansion in Augusta. I also met with some veterans who work with Starbucks; it was great to hear about their dedication to supporting our nation's heroes. They also let me try my hand at being a barista!

I met with my constituents impacted by Alzheimer's disease.

I volunteered with Meals on Wheels to help deliver meals in Augusta. I met so many wonderful seniors in our community!




When I was in Evans, I toured Wal-Mart's training academy.


I met with students in the Assistant Manager training program and tried out their virtual reality simulator. They use this technology to train for real-life scenarios. Thanks for having me!

I traveled to Coffee County where I toured Premium Peanut's shelling facility. The largest in the entire world!

In addition to touring the shelling facility, I was able to see their new oil mill which will be up and running by early next year. They expect it to create up to 80 new jobs. It is always a pleasure to see businesses expanding in Georgia-12!

I also had the pleasure of attending the weekly Bonepicker's lunch in Douglas. Thanks for having me!

I ran into Hazlehurst Mayor Bayne Stone!

I participated in a roundtable with superintendents from around Georgia-12 to discuss K-12 education.


We discussed the local challenges they face and how to best overcome these challenges with assistance at the federal level. As a member of the House Education and the Workforce Committee, I appreciate their insights and look forward to bringing this information back to Washington.

I joined the Reidsville Rotary Club for lunch and spoke to them about how I am working hard on behalf of my constituents in Washington!




When I was in Vidalia I sat down with Zack Fowler for a radio interview.

I visited Dot Foods in Vidalia.

I stopped by Wheeler County Middle and High School.




I had the opportunity to meet with administrators to learn more about issues they may be facing and how we can assist at the federal level. I also had the opportunity to take questions from students in a government class. It was a pleasure to meet so many young people interested in how American government works!

I was also able to tour Best Line Door and Sash in Ailey.


I learned more about the work they do, and met their wonderful employees!

Don't forget – today all of North America will be treated to a solar eclipse!

For more information go to https://eclipse2017.nasa.gov/

I'm so happy I get to spend two more weeks with the people of Georgia-12!

Share your thoughts with me. You can email me ⇒ HERE, contact any of our offices or join the conversation on Facebook, Twitter or Instagram. Don't forget to sign up for my Telephone Town Halls. Click HERE to register your name and number to ensure that you're contacted for all future calls from me. I hope you had a great week!

Sincerely,


Rick Allen
Member of Congress