Click HERE to follow Rep. Rick Allen on Instagram.
Tuesday, January 3, 2017, the House gaveled in to officially mark the start of the first session of the 115th Congress. It was a busy day, as members, myself included, took the oath of office, voted to re-elect Speaker Paul Ryan to his second term as Speaker of the House and adopted the House rules for the 115th Congress.

I am truly honored to have another opportunity to represent you and the people of Georgia-12. I am hopeful that 2017 will be a year to reroute our country and unite our citizens.
First things first, I would like to take a minute to tell you how I voted on an amendment to change the structure of the Office of Congressional Ethics. The Office of Congressional Ethics (OCE) is a separate entity that reviews allegations of misconduct against Members, officers and staff of the U.S. House of Representatives and refers matters to the House Ethics Committee. I voted against the amendment. Thankfully, members came together and stripped the amendment out of the rules package that was adopted on Tuesday night. Like President-elect Trump said, there is much work to be done and we have to focus on advancing the Republican Agenda and important issues facing the American people first and foremost.


This week, the House hit the ground running to advance the people's agenda.
Midnight Rules Relief Act— Allows Congress to overturn midnight rules in one fell swoop before they can negatively affect Americans and the economy. Midnight Rules are a last minute attempt by outgoing presidential administrations to force political agendas through rulemaking. I hope the sun sets forever on midnight rules and the attempt to challenge the voice of American voters. This legislation passed the House by a vote of 238-184.

REINS Act— provides regulatory relief to Americans and job creators by curbing unnecessary major regulations from executive agencies by requiring new rules with an impact of $100 million or more to be submitted to Congress for approval. Congress then must take action on the proposed regulations within 70 days with an up or down vote in both the House and Senate. The REINS Act passed by a vote of 237-187. Click ⇒ HERE to read my statement.
ICYMI: Wednesday afternoon, House Republicans in the Republican Study Committee unveiled a plan to repeal and replace Obamacare. You can read more about it ⇒ HERE.


Since 1972, the United States has vetoed 42 anti-Israel resolutions—but that all change in 2016. In the final days of his Presidency, Obama left our only ally in the Middle East to stand alone by blatantly and deliberately violating longstanding U.S. policy. The Administration's failure to veto an anti-Israel UN resolution is a betrayal of the worst kind—and the House will not stand for it. This is why we acted quickly to introduce and pass the bipartisan H.Res.11 to reject the UN resolution and call for its repeal. I will always stand with Israel and took to the House floor to show my support.

Click below to listen to my speech. Click ⇒ HERE to read my statement.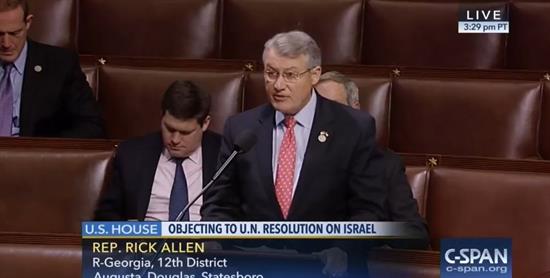 Click HERE to watch Rep. Rick Allen's speech.

Don't forget, we have moved!

My Washington, DC office is still located in the Cannon House Office Building but is now calling 426 home. Please feel free to stop by and say hello when you find yourself in the nation's capital.

With the 115th Congress officially underway, I want to hear from you. What issues would you like to see the House tackle in 2017? I appreciate your feedback. Email me your thoughts ⇒ HERE, or contact any of our offices and leave a message or chat with a staff member. You can always join the conversation on Facebook, Twitter or Instagram. Happy New Year!



Sincerely,


Rick Allen
Member of Congress