Rep. Allen Introduces Legislation to Improve H-2A Visa Program
Washington, February 16, 2021
Congressman Rick W. Allen (GA-12), a member of the House Agriculture Committee, this week introduced the Better Agriculture Resources Now (BARN) Act, legislation to reform and strengthen the H-2A visa program that allows agriculture employers to hire workers for temporary labor.

"American farmers rely on the H-2A program to hire temporary workers during critical planting and harvesting seasons," said Congressman Allen. "Too often, unnecessary delays in the application process and overall neglect of the program hurt the very people that the program was designed to help – our agriculture producers who provide our nation's food security. My bill will transfer responsibility of H-2A certification from the Department of Labor to the Department of Agriculture, which is better suited to meet the needs of farmers and their time-sensitive operations.

"In 2020 we saw unprecedented uncertainty in the H-2A visa application process due to COVID-19-related travel restrictions; in turn, the continuity of our food supply chain was put at risk. We must not let this happen again – H-2A certification must be managed by an agency with a deep understanding of the food supply chain, like USDA."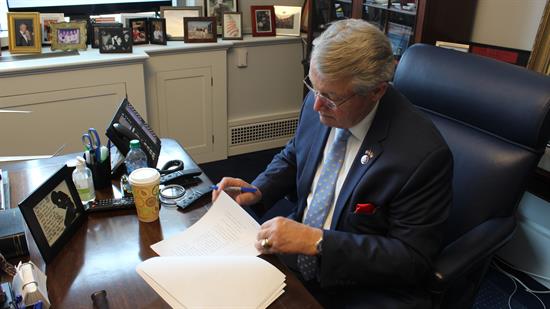 Congressman Allen introduces the BARN Act

Background on the BARN Act:
Transfers responsibility for certification of H-2A need from DOL to USDA to improve efficiency in the processing of requests.
Keeps jurisdiction over all immigration status issues at the U.S. Department of Homeland Security (DHS).
Lowers the maximum filing deadline for employers to request H-2A labor from 45 days to 30 days in order to accelerate the certification process.
Eliminates the 50% Rule, providing farmers greater certainty by allowing them to retain H-2A workers who have been employed on their operations for less than 50% of the duration of their visas.
Requires that wages of H-2A workers not exceed 115% of the minimum wage rate at the federal or state level (whichever is higher).
Requires non-immigrant workers to return to their home country after their H-2A status has expired or face penalties from DHS unless USDA grants the worker an extension.
Sets clear housing requirements for H-2A workers.
Responsibly changes necessary grounds for claims filed by Legal Services Corporation to reduce burdens on H-2A employers caused by frivolous lawsuits.
Includes strong reforms to combat H-2A overstays and fraud.
Prevents non-immigrant workers with previous criminal offenses from participating in the H-2A program while holding employers responsible for adhering to H-2A hiring requirements as well.
Rep. Allen introduced similar legislation in the 114th, 115th and 116th Sessions of Congress.
Full text of Congressman Allen's bill is available here.