Rep. Allen Sounds The Alarm On The Border Crisis
Washington, March 18, 2021
Congressman Rick W. Allen (GA-12) today spoke on the House floor, sounding the alarm on the crisis along our southern border. The House is expected to vote on two Democrat bills (H.R. 6 and H.R. 1603) this evening that would grant mass amnesty to illegal immigrants. Congressman Allen's remarks can be found below.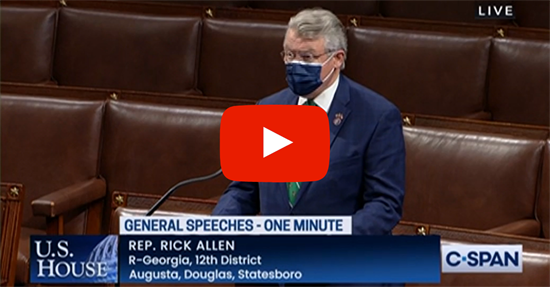 There is an undeniable crisis along our southern border, and the most recent numbers we have received are alarming.
Last month, there were over 100,000 illegal immigrants encountered at our border – that's a 173% increase from the same time last year and the highest number of encounters in 7 years!

From January to February of this year, we saw a 163% increase of family unit encounters, a 61% increase in unaccompanied minors, and a 28% increase in encounters overall.

This surge is a direct result of the Biden Administration's failure to secure our border and enforce our immigration laws.

Now we face a humanitarian crisis, and while the President refuses to acknowledge this dire situation, my Democrat colleagues are turning a deaf ear by advancing two bills this week to grant blanket amnesty to millions of illegals.

Are you kidding me?

This sends the wrong message that our borders are open and our laws don't matter, which will only incentivize more illegal immigration.

It's time to a build the wall, end policies like catch and release, and oppose mass amnesty.

We must secure our border.