Allen: FY18 NDAA Supports Georgia-12 Priorities
The House of Representatives passed H.R. 2810, the National Defense Authorization Act for Fiscal Year 2018 today. Congressman Rick W. Allen (R-GA-12) spoke in support of this legislation which includes important funding for Georgia's 12th Congressional District: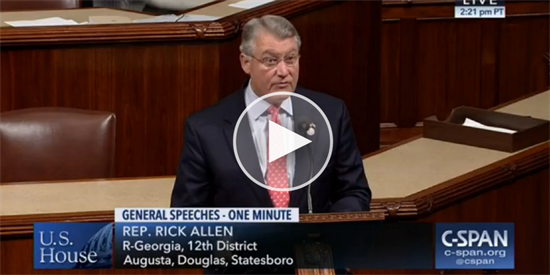 "I rise today to express my support for the conference report on the National Defense Authorization Act, which passed the House of Representatives today. In a great bipartisan moment, the NDAA received overwhelming support to authorize almost $700 billion in defense spending and set priorities for our military – including the largest pay raise for our troops in 8 years.
"The conference report kept funding important to Georgia-12 included in earlier versions of the FY18 NDAA, such as $8 billion in funding for cyber operations and over $85 million in new military construction to prepare for our cyber warriors at Fort Gordon, like new family housing and a new gate. Ensuring that our soldiers, sailors, and airmen are equipped with the facilities and resources they need to fight the battles of today and tomorrow is crucial to our nation's safety and security.
"Days after celebrating one of the most important days of the year honoring our veterans, I am happy to say that with the passage of H.R. 2810 – we have provided for the common defense, supported our service members and worked to close the critical readiness gap. With that I yield back."
###